COLUMBIA – There's a lot to love, a lot to be hopeful about.
But South Carolina baseball shouldn't have to look forward to next year's team because this year has had such a disappointing season, and Mark Kingston realizes that.
"That's the mandate every year is that we want to get to the NCAA Tournament and beyond," the fifth-year Gamecocks coach said Tuesday, his first availability since the end of the season ago. five weeks with a second post-season missed in three tries.
"It was, 'Hey, here's what happened this year, here's why it happened, here's how we'll improve next year, and try to get to Omaha. We have the same conversation every year.
Kingston was discussing his year-end meeting with athletic director Ray Tanner, the man who took a hugely successful baseball program and turned it into an elite. Kingston's office, which was once Tanner's, gazes daily at Tanner's retired jersey number hanging on the wall in Founders Park and the banner reading '2010 National Champions 2011' stretching across the scoreboard .
Two missed playoffs in three tries removed predecessor Chad Holbrook from that office before Kingston arrived. Still, Kingston was given another chance to fix the issues.
There have been no threats, no "Do this or the other" requests from the DA for next season, Kingston said. But both knew another year without at least a playoff berth wouldn't hold.
"I just don't think next year's team will look anything like last year's team in any way," Kingston said. "I have to imagine next year's squad will be a lot luckier."
An unprecedented amount of injury beset Kingston's pitching staff in 2022, knocking out three of the team's four best arms in Game 8 of the season. Josiah Sightler returned to have a terrific year, but only as a hitter, while Julian Bosnic, who turned down a nice draft signing bonus to return to school, never threw a pitch.
This led to Kingston having to save his best arms for the weekend series and the rest to handle midweek games. The Gamecocks lost several, which despite giving up to win 13 SEC games, leaving them paddling uphill to reach the playoffs.
"I certainly took that into consideration. If we had those guys, you could win four or five more games," Tanner said during a Monday radio appearance. "That probably would have gotten us in, and you see it a little differently."
They didn't, recording the team's first losing record since 1996, the year before Tanner took over. There were several reasons why Kingston deserved a chance to fix it.
The wounds. That the Gamecocks never accepted their fate, battling through to the final, indicating an unsplit clubhouse. Several players transferred after the year, but only one essential player (receiver Colin Burgess). That since the end of the season five weeks ago, Kingston has been actively going through the transfer portal, adding seven players with immediate impact, and could add more.
Tanner watched USC's 13-17 SEC mark, but also the team that finished above the Gamecocks in league standings: Ole Miss, at 14-16. The Rebels were the last team selected for the NCAA Tournament, but won the College World Series on Sunday.
"Did we miss it by far? We really didn't. There's a very thin line between a team that can play at the end of the year and a team that doesn't," Tanner said, while making it clear that the result matters.
"It's disappointing. Our expectation is to be in the playoffs, regardless of the sport.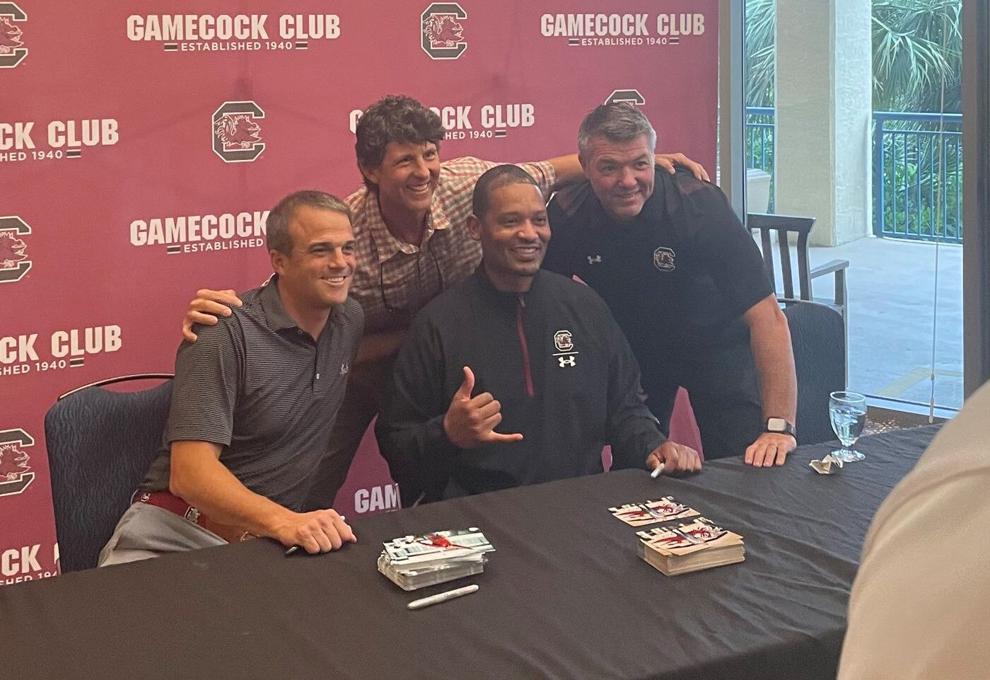 Kingston said all injured players from last year should be ready for the start of the 2023 season, or at least very close. Players who enjoyed years of success such as Sightler, Michael Braswell, Kevin Madden, Will Sanders and Noah Hall should all be back.
"You can't blame everything on our injuries. There are other areas that we also need to continue to improve, and we readily admit that," Kingston said. "I feel very, very good about what our roster will look like next year."
He also mentioned that he regularly follows post-season games. Part of that was looking for trends, seeing what's working now instead of maybe a few years ago.
Part of it was knowing that him and his team scattering in summer leagues or watching their own televisions was unacceptable. The Gamecocks beat Ole Miss in a regular season series this year and did the same with CWS entrant Texas.
"I watched a lot and it hurt a lot," Kingston said. "It's going to be a lot better than what this season was this year."